"Tying Up" is a common problem amongst race horses. It is a nickname for exertional rhabdomyolysis (ER), or Monday morning disease that causes severe damage of muscles or muscle degeneration. Although the cause of tie up is unknown, it has be related to sudden increases in your horse's activity.
With increase of activity being the leading factor of tie up in horses, other factors include mineral imbalances, genetic predisposition, working to hard after a long rest, selenium deficiency, vitamin E deficiency, wet/cold weather, hypothyroidism, or even overfeeding of grains.
So, how do you know if your horse is suffering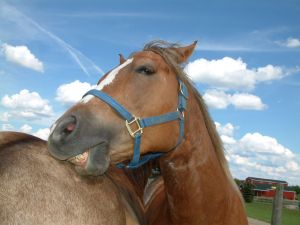 from tie up? Well, common symptoms include:
Reluctance to move
Soreness in back or hind legs
Stilted or stiff gait
If you notice your horse experiencing any of the above signs you will want to rest your horse and obtain proper treatment.
To eliminate the chances of your horse even obtaining symptoms of tie up, Abbey Road Presents offers equestrians an all natural preventive measure. Untie, a product proven to prevent tie up in horses is a safe, all natural, steroid free product used by equestrians all over the world for over 40 years. Because this product contains no steroids, it can be used before, day of, and after races.
Along with preventing tie up in your beloved horse, Untie also increases your horses oxygen level in the blood, treats epiphysitis, treats other inflammatory or arthritic conditions. Because your horse will be feeling much better whiles using Untie, your chances of winning the race are greatly increased as well!
Untie is not a steroid. There is no need for syringes to provide your horse Untie. Simply mix 5 scoops of Untie into your horses feed or water for the first seven days, and 2 scoops everday after. For the perfect pre-race, mix Untie with all natural Wild Forage for the perfect pre-race pick me up.
At Abbey Road we guarantee your horse will show improvements from our all natural products, or you will get your money back. Customers who purchase Untie also commonly purchase Wild Forage, ABR, Bleeding Powder, or Subside. All of which are all natural and also guaranteed to show results.
Contact Joey at 248- 521- 2221 to get on the way to having a happy and healthy horse!