Arthritis, a very common problem that occurs not only in humans, but also in equestrian horses, can get in the way of training or the big racing day. Also known as Degenerative Joint Disease, or DJD, Arthiritis can cause severe pain and make it difficult for a horse to maneuver both on and off of the race track. Unfortunately, there is no treatment for Arthritis, as it is a slowly worsening disease within a joint, as the cartilage begins to deteriorate. There are ways to control the pain caused by Arthritis. Abbey Road Presents offers high quality all-natural supplements to help ease a horse's pain caused by Arthritis.
If your horse is suffering from Arthritis, their joints will be stiff, swollen, and may seem lethargic. The most common joints that fall subject to Degenerative Joint Disease or Arthritis are the fetlock, carpus, and hock. As a horse grows older, symptoms of a horses Arthritis often worsens, and is the number one reason a horse no longer races.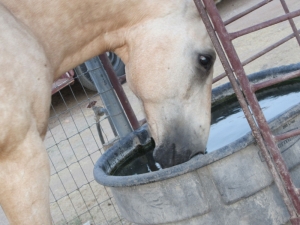 To help ease the pain or swelling caused from Arthritis, Abbey Road Presents has been providing horse owners with Untie, an all natural product guaranteed to subside the effects of arthritic conditions including Epiphysitis. Unlike many expensive prescriptions that are given from veterinarians, Untie is all natural, and contains no steroids or drugs. Simply add Untie to your horses feed, and see quick results.
There is no need to continuously refill prescriptions containing harmful chemicals, or steroids that can disqualify you from racing. With Untie, one unit will last one horse for seven months, with everyday feeding, providing guaranteed results. Because there are no steroids in any of Abbey Road's horse supplements, you are able to continuously provide our supplements to your horse, even through race day.
Equestrian riders from all over the United States, Japan, Europe, Australia, and Austria have been using Untie for years, treating and soothing their horses needs through all natural, chemical free, horse supplements. Results are proven. If you are not happy with the results of any of Abbey Road Presents' products, your money will be refunded. We stand by our products, and want to make sure every horse is a healthy horse!
For more information, or to order Untie for your horses Arthritis, contact us today 248-521-2221. If it is your first time ordering, be sure to ask about our new customer specials!