Are you looking for ways to help increase your horse's bounce back time naturally? Skip the harmful steroids that can have you disqualified from racing all together, and make sure you use all natural herbal supplements to enhance your horse's performance. Abbey Road Present's offers high quality, all natural Muscle, guaranteed to make your horse bounce back faster as well as add muscle after training or race day.
Because the friendly staff at Abbey Road take a horse's health personally, it is important that only the best all natural horse vitamins or supplements are offered to equestrians. After vigorous testing, Muscle is guaranteed positive results with no harm to your horse. Because this is not a steroid, or considered a medication, Muscle can be used up until and on race day, and there is no need for needles or syringes. Just one cap of Muscle added daily to your horse's water can make all the difference.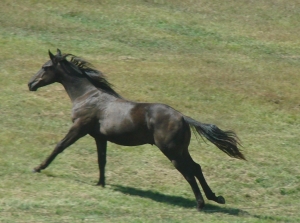 It only takes a small amount of Muscle to see great results in your horse's race performance, one quart of Muscle will last your horse for two months! The Microbes plus Catalyst will help to build oxygen and reduce toxins within your horse's body. Remember, just a little bit will go a long way.
Muscle has been used along with other all natural supplements such as Subside or Valley Forage for years by equestrians all over the world. From the United States all the way to Europe or Japan race horses have improved agility, overall health, and performance by using Abbey Road's all natural supplements, guaranteed to have proven results or your money back.
For more information on getting started to improve the health or ability of your race horse, call Joey at 1-248-521-2221. Be sure to ask about quantity discounts, and other products that would work perfectly for your horses condition. Whether your horse is suffering from worms, tie-up, respiratory conditions, or other common issues, we can help make your horse a healthy horse.